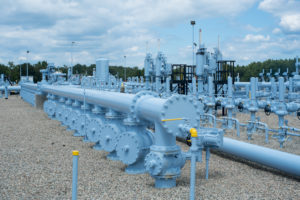 Colonial is a 56-year-old company with a clear commitment to growing and developing its business while maintaining its reputation as a leader in operational and environmental performance. Since it was founded in 1962, Colonial has proven to be a valuable asset to its owners and a vital piece of U.S. infrastructure. Operated by a relatively small workforce of 850 people, Colonial is 5,500 miles of pipeline laid in 3,000 miles of right of way between Houston and the New York Harbor. It's business is transporting gasoline, diesel fuel, jet fuel and other refined petroleum products to customers who serve a market of approximately 50 million consumers, primarily in the southern and eastern U.S.
Colonial employees have adopted five core values: safety, personal integrity, respect, innovation and teamwork, which we remember by the acronym SPIRIT. Working in a heavily regulated industry where accidents immediately can bring national attention and scrutiny, Colonial focuses intense attention and effort on operating in a manner that protects public safety and the environment. Every employee has a "stop-work" authority if they become aware of an operation or practice that is unsafe. Colonial's safety record is good and with the focus of continuous efforts to improve.
By volume, Colonial is the largest pipeline in the U.S., daily transporting more than 105 million gallons. It's prices are equal to or less than its competition, and its customer service provides hard-to-match flexibility for its customers. Colonial is recognized as an industry leader in the marketplace. Recent expansions have served our customers' desire for more access to Colonial's services, but not even these efforts have been enough. Colonial's mainlines between Houston and Greensboro have been full for three years. Investments to expand Colonial's capacity require not only regulatory approval but customer buy-in.
For Colonial's part, system upgrades have added some capacity and also improved the reliability and efficiency of the pipeline system. Maintenance efforts also have contributed to increased uptime for Colonial, however the most important element of system maintenance has been protecting the integrity of the system and reducing the risk of spills. In the current economic and regulatory environment, Colonial is increasingly diversifying its portfolio by providing customers blending and storage services.